The figure is a Saxon Chieftain sculpted by the great Raul García Latorre.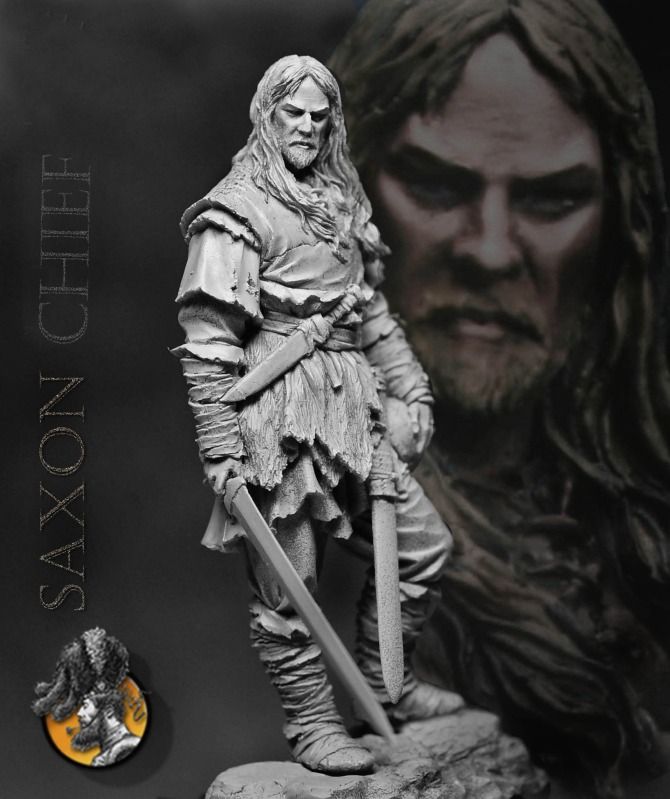 To celebrate this release we have made a SPECIAL EDITION IN RESIN, and numbered limited edition of 50 copies, that only can be purchased at the stand Carmina Hobbys during the contest AMT Torrent. Then if any unit left over from the special edition will go on sale through our website www.latorremodels.com

Warlord Games is giving away a free Pike & Shotte miniature when you buy the rulebook directly from them. From the announcement: With every copy of the forthcoming Pike & Shotte rulebook bought directly from us you'll receive this beautiful exclusive sculpt of the figure on the front of the book – Hugo Raleigh, ensign [...]...
Leggi tutto: Warlord Games giving away free Pike Shotte mini
Ufficiale Inglese 29° Rgt - 1849
Scale: mm 54
Scultore: Antonio Zapatero Guardini
Pittore: Danilo Cartacci
Materiale: white metal
Great Lakes warrior
Pontiac war
Bust mm 200
Scultore: Carmine Giuliano
Pittore: Danilo Cartacci
Materiale: resina
The scene "SON", made ​​of metal in 54 mm scale.
Sculptor: Alexander Deryabin (Russia)
Painted by Sergey Popovicenko (Ucraina)
La scenetta viene venduta anche a pezzi singoli così suddivisi:
1) Spartano Hoplita
2) Il piccolo guerriero con la mamma
3) Basetta scenica in metallo o resina
For purchases please contact us with e-mail:
tartar.miniatures @ libero.it
On the territory of the United Kingdom please contact El Greco Miniatures.
Title: Officer of the 95th (Derbyshire) regiment, Crimea 1854
Producer: Redcoat Miniatures
Scale: 54mm.
Material: Resin (8 parts )
Sculpted by : Miklós Páli
Box Art by : László György
(http://redcoatminiatures.blogspot.com)

Kabuki Models teases us with just a partial new look at their upcoming Steel Knight. From the tease: Here is a small preview of our Steel Knight from Knights of Legend series. It will debut on May 2012....